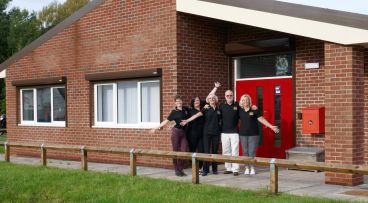 Bothy Threads
Bothy Threads celebrates 30 years of stitching in 2023 and we've come a long way since the early days of the original Bothy in Kate and John's back garden…
Stitching had always been a lifelong hobby for Kate and when she simply ran out of kits she wanted to stitch, she decided to make her own. Kate began to ask artists whose work she liked if she could use their images as the basis for her new stitched designs. She has always enjoyed converting quirky and unique artwork into cross stitch, long stitch, and tapestry designs, and loves finding little beads and sequins to enhance the stitching.
Kate and John lead the business for over 20 years, building up a following of dedicated customers, artists and trade contacts who have supported the once little Bothy to become the company we are today. We now use the artwork of over 50 artists, as well as designing our own kits, and produce over 800 individual designs!
Our Story
Jan 2013
In 2013, Kate and John moved the Bothy to the Lake District so they could explore the lakes in their spare time and draw inspiration from their beautiful surroundings. Chrissie also joined the team and has taken over the day to day running of the business.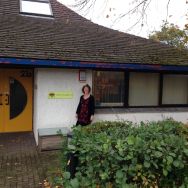 Sep 2017
In September 2017 Bothy Threads took over Derwentwater Designs, another stitching company owned for 20 years by Sid and Rose Swalwell, which featured a range of classic English countryside inspired designs. We continue to produce their kits, as well as creating new designs in their traditional style with the help of their daughter Sarah.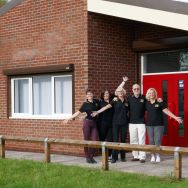 Jan 2019
In 2019 Iona, Kate and John's daughter, joined the business and we moved into our current location just north of the Lakes, where we continue to grow and develop our bright and colourful style. The Bothy elves have swelled in numbers and they continue to work hard to grow our selection of designs, including our newest venture, embroidery!

How we make our cross stitch and tapestry kits
Thank you to our loyal customers and fans for your continued support over the years. We hope to bring you many more designs, to keep you in happy stitches for years to come.

Watch our 'Welcome to Bothy video' for an introduction into our business and to see how we make our cross stitch and tapestry kits at Bothy Threads.
View our brochure
Take a look at our latest brochure showcasing all our beautiful kits and accessories from a range of artists and order a printed copy.
View Brochure
Join our community
Join our Facebook community to keep up to date with all our latest designs, new artists and special offers...
Join the Group